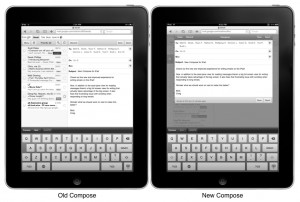 A new Gmail for iPad upgrade has been released to Apple users. Although the app originally had a slow start and gained a lot of questionable feedback, it seems to have finally managed to harness the full power of the iPad. The greatest feature that has been added to the app is the navigation panel on the left size, as well as a series of views that can be used to provide streamlined, efficient email interaction. Although the Gmail app lacks the functionality to connect accounts other than Google accounts, it's a great option for loyal Gmail users.
For those who use Gmail as their only email service, the Gmail app is the most highly recommended option. It provides access to many of the features of Gmail that cannot typically be accessed from the regular Apple Mail feature. It has also improved upon making reading and writing emails more efficient and enjoyable for iPad users. For example, users can try out the navigation tools in landscape mode and then use the full screen mode in portrait for a more elegant effect. Google has also updated the app to match up more noticeably with the theme of iOS 7. Although the changes are subtle, they make the app feel more customized to the user experience and almost make it feel like this is a completely different app from the original Gmail for iPad app released previously.
This is also an ideal option for those who rely on Gmail on a regular basis for business and personal use. Being able to access Gmail more effectively from the app on iPad ensures that users never have to miss out on an email or scramble for Gmail access on their other devices due to the app glitching out. There have not been any bugs reported on the app thus far, making it a stable upgrade to the Gmail experience.