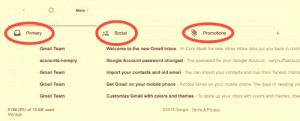 Earlier in the year, Google decided to run an overhaul on its Gmail service and create structure for how various types of emails are handled, such as promotional pitches, social media responses, and discussion group updates. The main inbox that Gmail users encounter during usage is reserved for their actual conversations with their contacts. There are also some ads that may look similar to emails, which are placed above the tabbed folders section. As the structure stands currently, any sort of email correspondence from companies that are promoting new services or deals will get sent straight to the "Promotions" tab.
However, there are some companies that are still trying to determine how the presence of the Promotions tab affects their marketing strategy. For companies that rely on email promotions, such as daily deal sites, it can be damaging because it means that users aren't instantly seeing their promotional emails when they log into Gmail; they have to actually navigate to the Promotions tab in order have access to these deals. For other companies, it seems that the Promotions tab hasn't negatively impacted their marketing strategies at all.
Companies such as Shutterfly, Expedia, and Constant Contact have said that they haven't seen any noticeable changes in how Gmail's Promotions tab affects the outcome of their marketing. Although Constant Contact did report that there were slight changes with the new Gmail update, the changes weren't significant enough to drive them towards needing to change their marketing approach. It would seem that for most companies outside of the realm of 'daily deals' have not been negatively impacted by the new tabs, leaving many to wonder why experts had projected such poor results initially.