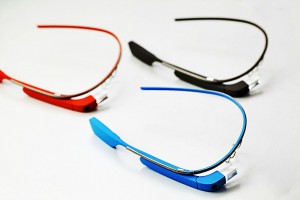 Google announced new prescription frames and sunglasses earlier this week, with a plan to release Google Glass to the public towards the end of this year. There will be four new styles of prescription frames and two new sunglass shades available to those who currently own the device. The frames are meant to be attached to the latest version of Google Glass, which was released to its early users during a private release last year. Acknowledging the new additions to Google Glass, there are now around 40 different style combinations that are available for Google Glass users.
Frames typically cost around $225, while the sunglass shades are priced at $150. However, that cost is in addition to the $1,500 price tag for Google Glass, assuming that someone has been invited to become a user. Google partnered with vision insurance provider VSP to provide the frames. Those who purchase the new frames will be able to take their Google Glass device, their prescription, and the new frames to their preferred eye care professional to ensure the proper cut and fit for their upcoming prescription lenses for use with the device. It bears noting that professionals that have been approved for working with the device are currently only located in San Francisco, Los Angeles, and New York. VSP will then reimburse their members for the Google Glass frames and lenses based upon their personal prescription plan.
Although Google Glass is still somewhat in its early stages, it has already been revealed that the device can be used for handling a variety of tasks such as sending, receiving, and reading faxes or even calculating various statistical information. As a result of its early popularity, Google believes that making additional frame and lens options available to users will only continue to encourage further Glass purchases within the future, in addition to providing more options to new users when the device finally has its public release.