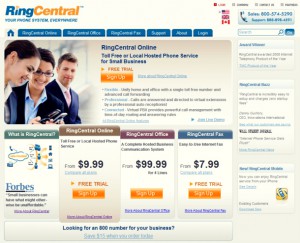 As many have likely already realized, there are a large amount of Internet fax services available to help individuals make the experience of sending and receiving a fax far more simple. Understandably, the amount of services that are available can be overwhelming and can make it incredibly difficult to choose a service for sending and receiving personal or business faxes on a regular basis. If you've had any curiosity about RingCentral in the past, the following review may answer some of your questions and concerns.
Choosing RingCentral can provide a variety of benefits with continued use. Users of this service get to test out RingCentral on a 30-day free trial period, allowing them to decide if the service is truly able to meet their needs or not. Those who pay for a year of the service in advance can save 20%, which is a reasonable value if considering a budget. The service also provides local fax numbers in 49 states, unlimited email addresses to send faxes from, 30 email addresses to receive faxes from, an online fax storage of up to 200 messages for an unlimited amount of time. Additionally, RingCentral provides users with 700 combined pages for free, which is great compared to the typical 300 combined pages that most Internet fax services provide. Different fax packages are provided to ensure that users get the right volume of fax access that they need.
Of course, everyone has different needs that need to be addressed and met by their Internet fax service. RingCentral offers an excellent level of customer support, providing its users with email support, phone support, and FAQs that can also be used to find additional answers. Phone support is also available 24/7, which can be ideal for individuals who travel frequently or have to conduct their business during different time zones.