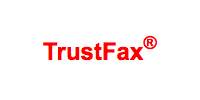 Adding another Internet fax service to the list of possibilities, TrustFax is a fairly low-cost option. This company offers a plan for $8.95 a month, which includes 250 combined pages and an overage fee of only $0.10. Individuals that are willing to pay for a year of service in advance can save 16 percent on their overall cost. There are no hidden fees and users can store their sent and received faxes online for a year. TrustFax provides local fax numbers in 25 states and also offers (866), (855), and (877) fax numbers for businesses. However, this is not to say that TrustFax isn't without its issues.
One of the largest issues with TrustFax is that the fax quality is poor. Additionally, only two email addresses are allowed to receive faxes, which may not be the most suitable option if you're seeking to provide online faxing to a large volume of addresses. The customer support provided by TrustFax is fairly average and comparable to what can be found at other Internet fax services. Customer support is available Monday through Friday, 8 AM to 5 PM, Pacific Standard Time. Like other Internet fax services, this company also offers a 30-day free trial, which allows individuals to try out the service and determine if the fax quality is suitable enough for their needs.
Ultimately, TrustFax is an online fax service that truly merits more examination prior to committing to paying a monthly plan. Assuming that individuals are willing to deal with the poor fax quality, the features provided by this service are fairly beneficial. Depending on what type of documents are being faxed and the overall volume of a typical month of sent and received faxes, TrustFax may remain a reasonable option for those who are seeking a cost-efficient fax service or those who don't typically require high quality, large volumes of faxes for professional reasons.